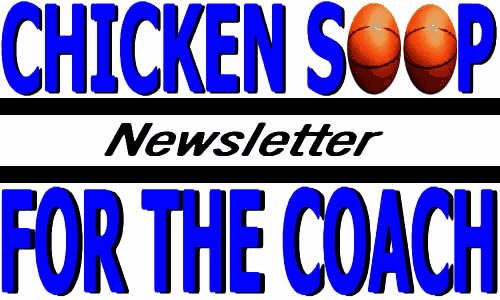 It's time someone offered a free coaching service that went beyond X's and O's...that time has arrived. "Chicken Soop for the Coach" is a monthly electronic newsletter (delivered via e-mail) packed with great coaching information dedicated to sections each month like:
The Banquet Circuit (jokes and amusing anecdotes to entertain and captivate your audience for that important speaking engagement)
Inspire Me (great true stories of inspiration and quotes to motivate yourself and your team)
Last One Holding the Chalk...Usually Wins! (a collection each month of some of the best set plays, tips, drills, offenses and defenses in the game).
With over 25 years in this profession and coaching stops all over the country, I will tap into several different basketball minds and philosophies to help produce this newsletter each month...from Jud Heathcote to John Wooden, each issue will be packed with information to help your program succeed.
Click the "Subscribe" button below to begin your Chicken Soop for the Coach Newsletter delivery each month. Newsletter delivery will begin once the information requested below is received.
Thank you in advance for joining the Chicken Soop for the Coach Newsletter.
Your e-mail address will not be sold, traded or abused in anyway.