RUN TO WIN
Coaching and Leadership by Vince Lombardi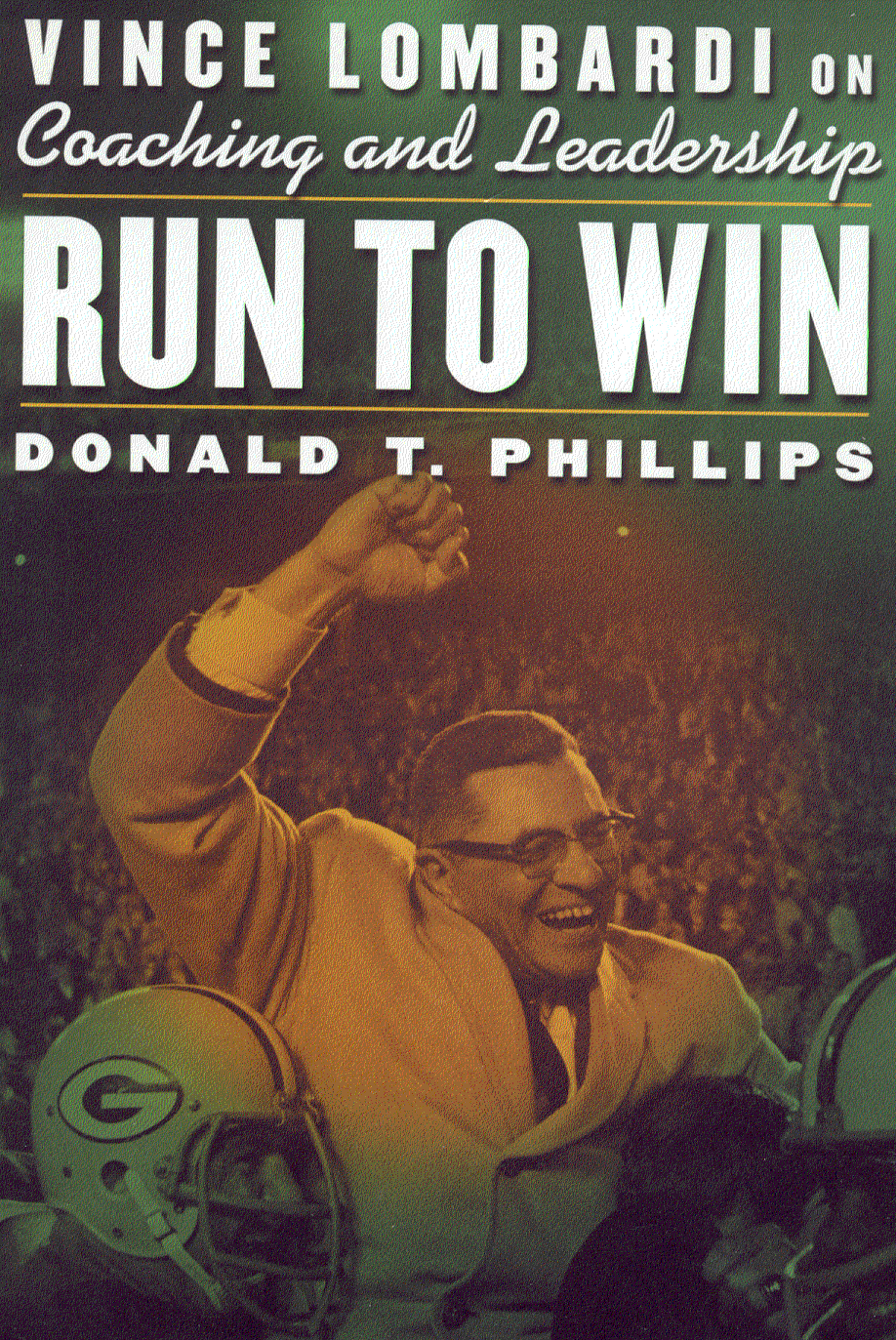 If you are interested in purchasing the book, you can buy it from Amazon.com today buy clicking on the book cover.
* Make every effort to build trust with your players so that your yelling will be taken in stride.
* Ask the members of your team to believe in you.
* It's more important to have the players' confidence than their affection.
* Never tell your team anything that you don't believe yourself.
* Always tell your team the truth. Don't even try to deceive them. They'll know.
* Take all the blame for a big loss. After you win a big one, be sure to let everybody know that you do not stand alone.
* Give those linemen all the credit they deserve.
* Identify with and back up the group even at the risk of displeasing your superiors.
* A coach's contact with his team must be close, informal, and sensitive.
* Demand at least as much of yourself as you do of anyone else.
* Laugh with the team when they win, and die with them when they lose.
* Never miss a practice. Never.
* Combine tough discipline with a trustworthy disposition.
* A team is made up of ass many different individuals as there are positions on it.
* When it comes to details regarding your players, keep your ear to the ground. Remember little things that other leaders might not notice.
* There are patterns of behavior that we can recognize in our employees that may help us, but each individual or group of individuals has facets that must be treated on an individual or group basis, with the usual stereotype rules thrown out the window.
* Build strong bonds with they key team leaders.
* Admit it when you make a mistake.
* Inspire and motivate according to the personality of the individual.
* Learning about the intricacies of the people on your team is as important as the subtle details of your profession.
* Remember that most people want to be independent and dependent all at the same time, to assert themselves and at the same time be told what to do.
* The amount that can be consumed and executed by a team is controlled by the weakest link on it.
* Each individual player has to do his own thinking and take responsibility for his own performance. A leader does not improve an individual; the individual improves himself.
* Battles are primarily won in the hearts of men.
* Have a great command of your craft to provide credibility with players, assistant coaches, fans, and upper management.
* Be a student of your sport's history. Use statistics to prove your point.
* Remind your players that you, too, were once in the trenches.
* Get to know every part of the machine.
* Do not just tell your players to do something; teach them how to do it.
* Coach the members of your team to be attuned to all aspects of the game, not just those that impact them directly.
* Enlighten them on the intricate differences between various positions in the lineup so that they will better understand one another.
* Pay attention to details. While, at times, it may frustrate you, it can also pay big dividends for individual players.
* Study your opponent's past history. People don't change what has been working for them.
* Think deeply about your sport - about its psychological, scientific, and philosophical aspects.
* Remember that your own passion, knowledge, and dedication will inspire other people.
* Dream up new plays.
* In order to be creative, first understand all the aspects of your craft - its history, its past innovations, its details and nuances.
* Once you create a new system, implement it right away.
* Have a lot of little kid in you.
* Write down a new idea wherever and whenever it occurs to you.
* Visual education is much better than simply talking to people.
* From success stems confidence.
* Change is good.
* If you alter your personality just to accomplish something, you're not being true. You're being dishonest.
* Surprise should be based on deception and rapidity of maneuver, not radical change.
* If you don't strive to innovate, someone else will come up with that better thing.
* If you stand still, you are not progressing and will not remain a leader for long.
* Involve the members of your team in the creative process.
* Part of the price you must pay for success is watching others steal your ideas.
* Ultimately, come up with new ideas that outdo your previous innovations.
* Never take an easy opponent lightly.
* Work hard at game preparation.
* Study your opponents. Gather as much information as possible. Determine strengths and weaknesses.
* Build an extensive file on every opponent and keep these files updated.
* Try to defeat what your opponent does best. Just like I try to do what I do best and my opponents try to stop it.
* Remember that the team that controls the ball controls the game.
* You have to run as a coach.
* Don't try to inject much strategy from the sideline. That should be done during the week. But be prepared to make changes at halftime.
* Use game planning and meticulous preparation to build a player's confidence.
* Make winning a part of your game plan. Articulate that goal each and every week.
* Make no little plans. Make big plans.
* The reach should always exceed the grasp.
* Build a young, energetic staff with both unproven talent and veteran experience.
* Demand the best from everyone.
* Remember that players are a dime a dozen. Look for individuals with intelligence, versatility, and desire, those who have a lot of heart; those who are aggressive even when it hurts; those who have the pride to make any sacrifice to win.
* Remember that there's nothing more discouraging than to watch the opposition run up and down the field at will against you. Championship teams must stop the run!
* Trade or cut players with losing attitudes.
* When you find that "100 percent desire" individual, take care to give him a special personal touch.
* Try to make the team members feel unique and wonderful - as if they are a special bunch of people.
* Individual commitment to a group effort is what makes a team work, a company work, a civilization work.
* The success of the individual is completely subjected to the satisfaction that he receives in being part of the successful whole.
* Business is a very complex machine, all of whose components are people, and, as in a football team, it is vital that these people mesh and gear smoothly.
* The team must bend or already be molded to your personality. You've got to have people who bend to you.
* People who work together will win.
* When you are given a chance to coach, accept the offer graciously.
* Look within yourself and pray for spiritual guidance.
* Go meet with executives of the time and discuss your vision for the future.
* When you first meet with members of the press, be humble.
*Study in detail the team you've just inherited.
* Be both industrious and meticulous in your analysis. Take extensive notes. Organize and file.
* Discard what doesn't fit you or your material. Look for what does fit.
* Evaluate the situation in terms of existing strengths and weaknesses.
* Undertake a personal marketing and public relations campaign.
* Call on public officials and industry executives and ask for their support.
* Seek strategically to build a sense of pride in your team.